The Schmoozenbergs
Conjuring up the mood of 1930s Paris, fused with flavours of Eastern Europe and the energy of a campfire jam session, The Schmoozenbergs' uplifting music will put a smile on your face and a bounce in your step. With roots in Gypsy Jazz, and influences beyond, their two guitars, violin and double bass bring you irresistible rhythms, evocative melodies and playful improvisation to create an upbeat and heart-warming sound.
"a voyage of delight, a foot tapping whirl of expressive energy" - Liverpool Sound and Vision
Based in Bristol, the band formed in 2012, and have had a busy seven years of live shows, including Glastonbury, Boomtown, Shambala and Green Man, international dance events and national venue tours.
In 2019, the band wrote and recorded an album of original music, with the support of funding from Arts Council England. On this tour, their live show will contain a mixture of new music from this album (entitled "Awaken"), alongside imaginative interpretations of classic jazz and swing tunes by the likes of Django Reinhardt, George Gershwin, Duke Ellington and Fats Waller.
Expect an energetic and engaging live show, guaranteed to put a smile on your face and a bounce in your step!
"Upbeat good time music" - Songlines
"The musicianship is excellent, laidback and accomplished...played with love and abandon" - Folk Radio
7.30pm - doors open at 7pm.
TICKETS - £10 from North Nibley Community Hub or available online.
Bar provided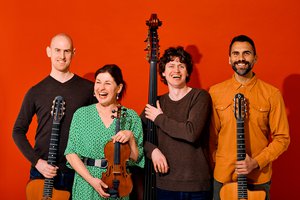 ---